About Me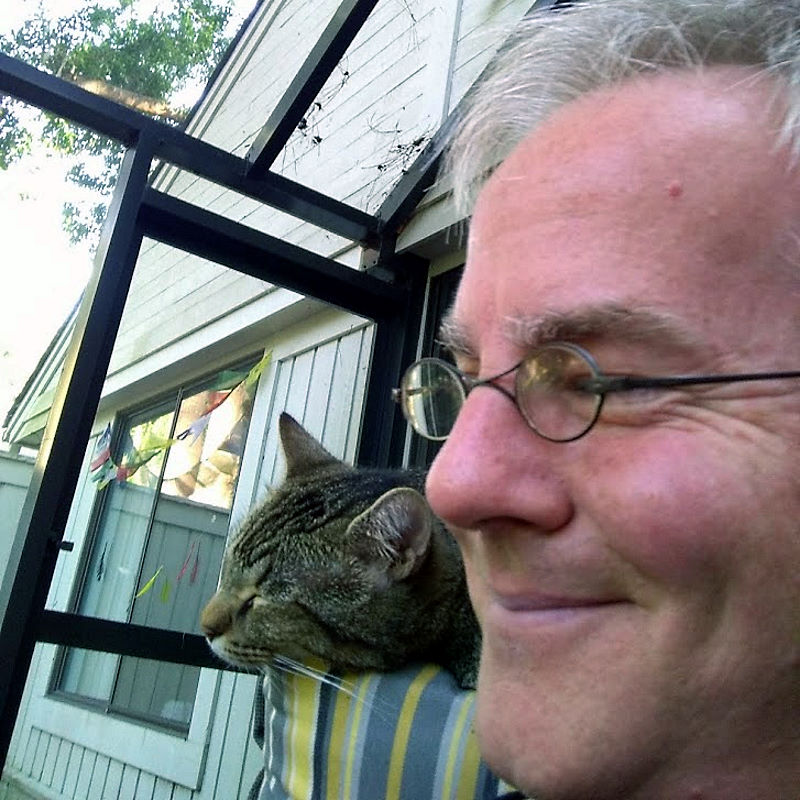 Simply put, I like to help others.
Even though I consider myself to be a creative person, I have no need for the spotlight. I guess that's why being an editor is such a good fit—even though I had no idea this is where I would end up.
My plan, so many years ago, was to be a music major. I played bassoon in the regional orchestra, tenor sax in my school's jazz band, timbales in the marching band, and guitar at home.
But, I got cold feet about pursuing music as a career (further frozen by friends telling me I'd always be broke) and ultimately turned down a music scholarship, grumbling my way through a BA in economics and, in a much happier mode, earning a Master's in English with a concentration in linguistics.
I was accepted into four PhD linguistics programs, but I declined since no assistantships were available for my rather esoteric research interests (core meaning of vowel frequency formants of an extrapolated protolanguage).
Thus began a career of word-wrangling while dabbling in music-related ventures on the side.
About You
You are someone concerned about the state of the world and its myriad human-caused problems—and you want to do something positive.
You might be a teacher, an artist, a social worker, an environmental scientist, a philosopher, a computer programmer, or an engineer with an idea that can help solve a real problem (i.e., not a product that makes us lazier and less aware of the consequences of our actions or distracts us via mindless entertainment).
Maybe you are someone with an inspiring story filled with insights and lessons learned.
If any of these sound like you, and you are ready to write a book, contact me at sean (at) seandennis (dot) com. Thank you.
A Timeline of Tidbits
1984–1992
The aforementioned college education, with a dreadful stint as a customer service rep for GEICO insurance between my undergrad and graduate studies. I also was a DJ at WODU (the college's carrier-current AM radio station) and served as the station's GM for a year, was a member of the Student Activities Council, and drove students with disabilities to and from classes via golf cart for the Office of Educational Accessibility.
1993–1996
Taught a technical writing class at Commonwealth College in Norfolk, VA (now Bryant & Stratton), then worked in retail for a few years.
1997–1999
Helped start up Sage Island in Wrightsville Beach, NC, originally a small e-learning and custom software development company, now a web marketing outfit. I worked long, long hours—lots of instructional design, interviewing of subject matter experts, writing and editing, and digital audio editing.
1999–2007
Left Sage to join the NOAA Coastal Services Center (now the Office for Coastal Management) in Charleston, SC. Essentially, I served as a one-person e-learning department within its Coastal Learning Services division. The websites I developed garnered multiple Sloan Consortium "best practice" awards.
2000
Got married. Still married. Pro-tip: Marriage should always be a joyful work-in-progress. If that ever changes, reassess.
2000–2006
Got involved behind-the-scenes in Charleston's jazz happenings. I developed the charlestonjazz.com web portal, was on the board of the Poetic Jazz Society, and cofounded the Charleston Jazz Alliance (an idea a little ahead of its time that didn't take hold) with Grammy-winning drummer extraordinaire Quentin Baxter.
2004
Developed and taught a one-day workshop that I called "Web Content Design and Evaluation." Essentially, it was an organic SEO and UX course wrapped into one tidy package—before the term SEO was much of a thing. I also converted the content into a website, since flying me around to teach workshops across the country wasn't cheap.
2004–2005
Conducted a planning workshop for the Olde North Charleston Neighborhood Council and researched and gathered information that ultimately became the core of the first historic and conservation districts in North Charleston. Since I like old architecture and was concerned about wanton tearing down of Arts & Crafts style homes in the neighborhood, getting involved in historic preservation felt like the right thing to do.
2007–2012
Left NOAA, left the Charleston area due to health issues in the family, and joined DataPath (which was bought by Rockwell Collins, then spun off to become DataPath again—whee!) as a fully remote technical writer. My primary job was to write, edit, and manage a large suite of user manuals and technical documentation for a software product called MaxView.
2009–2015
Became a member of an online community radio station, Asheville FM (now WSFM-LP). At Asheville FM, I hosted two radio shows and served as the station manager for a while. I also sat on the board of Friends of Community Radio, its associated 501(c)(3).
2012–2013
Was laid off (along with 500 other fine folks) by Rockwell Collins. I worked primarily as a freelance writer and editor for a year afterward. In a fun and interesting set of gigs, I wrote the user manual for Moog Music's MF-104M Moogerfooger analog delay pedal (and its 500-series counterpart) and a how-to guide for Moog's Animoog iPad app. I also created a manual for WavesFactory's TrackSpacer VST plug-in (a very cool automated EQ tool). And, I created monthly newsletters and wrote a variety of content for VirtualJobShadow.com.
2014–2017
Joined Fire Engine Red as a QA analyst (copy editor with additional QC duties). In this role, I edited, fact-checked, and tested the digital marketing campaigns for various colleges and universities—some small and obscure and some quite well-known (Ivy League, big state colleges, etc.) It was a nice gig, but all the staring at the screen was really wearing me down for some reason…
2017
So I jumped at the chance to become the associate editor of JazzTimes and BirdWatching magazines. My wife and I had just purchased the rights to the Wild Birds Unlimited franchise in Hilton Head, SC and reopened the formerly moribund business. Being a budding birder (yes, I do like alliteration), this editing role with Madavor Media seemed like a perfect fit. But again, I found myself tiring from staring at screens so much. I also caught myself making more errors that I had to correct on second pass. Not good. Frustrated and disappointed in myself, I left Madavor to work full time at our store.
2018
Something was wrong. My ears were constantly roaring with tinnitus. I was irritable and often dizzy, and fluorescent lighting made me feel lousy. Listening to music—something I have always loved—was causing headaches unless the volume was quite low. And then the fun began: a series of complex migraine headaches masquerading as mini-strokes that resulted in a hospital stay and batteries of tests. I would feel a "pop," see a strange Z shape that blocked all but my peripheral vision, lose manual dexterity, become confused, and lose the ability to speak for roughly an hour. Then, the splitting headache would begin in earnest.

Everything on the cardiac and head-bone tests looked fine, but a second MRI with contrast found a benign brain tumor (either a schwannoma or meningioma) just above the cerebellopontine angle. The tumor is displacing my left facial nerve (so that's why my left eye doesn't open as wide as my right!) but seems to be stable—and apparently has nothing to do with those insane headaches. Some chiropractic care, dietary changes, weight loss, lots of exercise, and regular use of specific herbs has kept the migraines away for over two years now. But, I am not the same person who could plow through on-screen content for hours at a time. Life teaches, and I am learning and listening.

Update: I also discovered I have something called Visual Snow Syndrome (VSS). Because this is the way my vision has always worked, I guess I have adjusted to it and, for the most part, VSS doesn't interfere with my life—although it does cause my brain to fatigue more quickly during detailed work (now that I am middle-aged), and I have to take more frequent breaks. More on VSS at the Visual Snow Initiative website.
2020–2021
Sold our Wild Birds Unlimited franchise. Bought a house with a bit of property in Costa Rica. Sold our house in the United States and most of our belongings. Moved to Costa Rica with our six cats to start a new and mellow next chapter of existence. Pura Vida!
Right Now
Working with wonderful authors like you.
Contact me at sean (at) seandennis (dot) com.
Certifications